CMN System Applications Provisioning RCC services
Apps implementing an end-to-end RCC services provisioning scheme
The Remote Cash Control concept is about monitoring and controlling a geographically dispersed Cash Smart Safes population installed at merchant retail outlets, intending to safely store the cash collected during the daily commercial activities.
The smart safes network is named CMN after the "Cash Management Network" concept. CubeIQ, as an RCC services provider, deployed the CMN System as a cloud-based service, with the following key functional components:
The CMN System Architecture
A "Superivisory Control and Data Acquisition" system, by design
The Cash Monitor Network (CMN) System is the center of a "star" formed network, serving as a centralized cloud-based SCADA server.
The overall network, as per the "IT Model" exchanges information between the intelligent network nodes with local intelligence
The overall network is presented in the diagram below: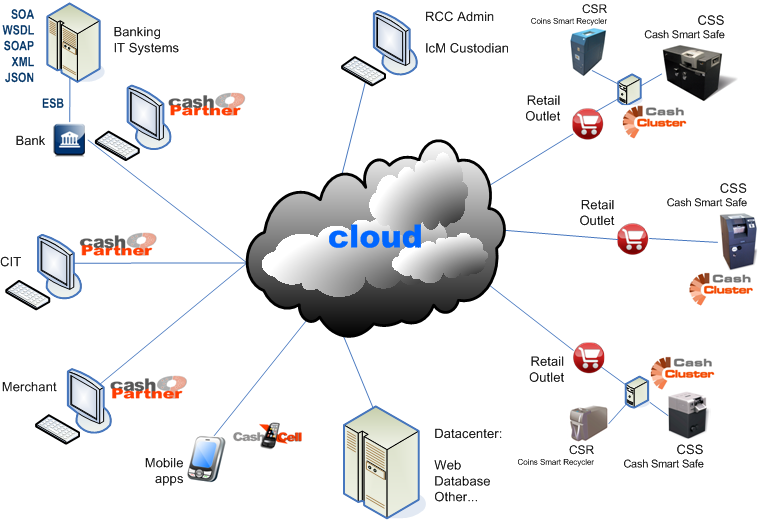 As depicted in the above diagram:
A dedicated Cash Smart Safes (CSS) network monitoring processes control is running in the CMN server, collecting near real-time CSS information across the whole network via secure web connections.
The CSS data series is stored in a secure and resilient data base
Compelling events are generating notifications that are relayed to the RCC system stakeholders, re: Merchant, Bank and Armored Courier Servuce (CIT).
Selective or aggregate information is forwarded to business owners;


Delivered on agreed timing schedule (push)
Available via SOA on demand (pull)