A high capacity and strong performance enterprise level system
CashPartner™ is based on an enterprise scale Cash Management Network infrastructure, with high-performance scalable architecture:

Cloud based

Safe and Secure

Full traceability and auditability in cash tracking

Service agreements compliance verification

Incidents Management control and reporting

Based on Open System Web Services architecture
The most effective companion for an efficient RCC System
CashPartner™ is the backbone of an efficient RCC System, offering complete control over retail deposited cash until it is collected by the bank CIT service, with:

Near real-time deposits tracking

Multiple merchants per Smart Safe

High capacity

High performance

Maintained continuously in-sync with CMN System

24x7 accessible, anytime, anywhere via the web
RCC System Administration
Set-up you own RCC ecosystem
Define any number of:

– Banks
– CIT companies
– Merchants owning retail outlets
– Installed Cash Smart Safe (CSS) devices in the retail outlets

RCC business model may be either Bank-led or CIT-led, while an installed Cash Smart Safe may be shared by any number of merchants (e.g. in a shopping mall).
Any system stakeholder may access the system getting visibility on a "need-to-know" basis. Thus a merchant may get information about his own retail outlets, while a Bank or a CIT company is having access to all accounts with who has established agreements
All Cash Smart Safe data are updated near real-time, while retention time is unlimited, enabling comprehensive data analytics
Any CashPartner user may inherit his access privileges (partially or in full) to other users, such as members of his team
User groups may be created, with different "Resource Access" profiles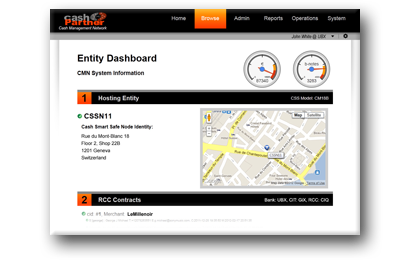 Anytime, Anywhere at your services
Cloud-based 24x7 access
You may use any personal computer or tablet connected over the internet to access the CashPartner services via a standard web browser.
The Cash Monitoring Network (CMN) infrastructure is standing behind the system, hosted in a highly resilient data center offering 24X7 availability. Server is monitored by SiteUptime independed service and is currently rated at 99.998% uptime.
Overall system capacity is virtually unlimited, designed to host several thousands of Cash Smart Safes in a geographically dispersed, highly populated RCC ecosystem.