Right-sized technology for every retailer
Cash deposit, recycling and armored courier bag preparation devices
Remote Cash Control (RCC), the deployment of secure smart safes at merchant locations coupled with information reporting and provisional credit mechanisms, has been utilized for nearly 15 years as a means of improving merchant cash cycle control. Since 2004, when banks gradually began offering provisional credit based on validated currency residing at the merchant location, the industry has witnessed a surge in interest and adoption of these devices.
For most merchants, couriers and banks, cash handling is still predominantly manual, but a growing number of institutions are starting offering Remote Cash Control products that sweeten the deal by offering provisional credit for deposits that are counted and validated by a "smart safe" that also provides audit trails for cash.
The primary benefit of RCC provisional credit is that it facilitates wholesale reengineering of the cash cycle within merchants and between merchants, armored couriers and bank cash vault networks. RCC removes the substantial burden of cash handling typically carried by bank branch personnel historically, largely with the introduction of meaningful automation.
U–One by YOUGO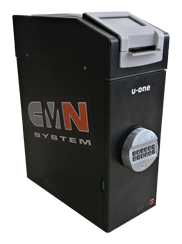 The lower-tier retails smart safe infrastructure
U-One with its security bag capacity of up to 1,200 stacked banknotes and minimal footprint meets various customer and business needs.
Even in small shops where space is limited, its small size and footprint allow this unit to be placed under a counter or in a small back office. It is equipped with a short edge single note validation module, depositing banknotes swiftly in an innovative security bag housed in the safe cabinet.
APT97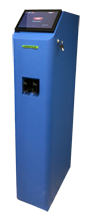 The mid-tier retails smart safe infrastructure
APT97 is a robust and sturdy device designed to deposit banknotes. The basic configuration supports bundle feeding and storage capacity of 2.000 notes.
Optionally APT97, can be equipped deposit and recycling banknote validators.
U–Bundle by YOUGO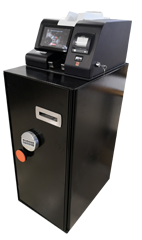 The mid-upper-tier retails smart safe infrastructure
Able to reach deposit speed of 6 banknotes per second, U-Bundle is one of the fastest smart-safes in the market. It is equipped with 100 notes auto-feeder and continuous feed support.
U-Bundle is available with 2.400, 4.000 or 10.000 banknotes capacity, in front-service as well as rear-service (through the wall) configurations.
CM18B by ARCA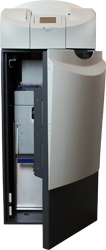 The top-tier retails smart safe infrastructure
CM18B is a high-end smart safe, designed for handling and control of large volumes of cash withdrawal and deposit. The cash fitness sorting feature allows the recycling of only the fit banknotes, while the unfit ones can be removed from circulation.
The banknote "recycle" function reduces the money held in-place to a minimum. There are two separate safe areas, the main for recycling and the side safe for storage.
U–Coin by YOUGO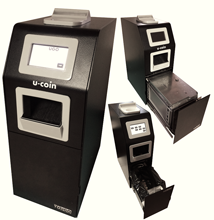 The lower-tier retails smart safe infrastructure
U-Coin is a compact coin deposit unit, that counts validates and stores up to 10Kg of coins, with a speed of 720 coins per minute.
Besides the traditional lockable or open storage boxes, U-Coin is available with plastic coin-bag and a heat-sealing mechanism. Its small size and footprint allow this unit to be placed under a counter or in a small back office.
MSS by MultiCash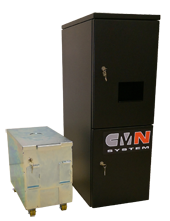 The medium & high tier retails smart safe infrastructure
MSS is a fully equipped coin deposit system. Its clever design makes the fully automated deposit of coins possible - without any buttons. Extended cleaning mechanisms warrant maximum availability and due to its slim shape, it's even fitting if only small space is available.
Innovative materials in industrial quality for coin-disk and coin-path ensure high counting speed of 1.200 coins per minute, with a low noise level. It is available with many different coin-bin solutions, from 10 to 90Kg of coins.